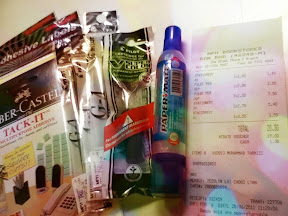 I didn't go to school today. Partially because my eye hurts and I do not know why. It has been 3 days from now.
But anyway, I went to One Utama with my parents. Last minute. :)
I looked through the vouchers I had.(I never usually do this because I don't have any :B)
I had to use my MPH voucher before it expires so... There was where I went! :)
I bought my favorite Pilot black ink refills and some other random stuffs. All together, they cost me RM20.30. But I only paid RM1.30. :D Yup, I had an RM19 voucher! How cool is that.
I know this post is really random, but that's not all.
I also had an RM5 Mc Donalds voucher, so I bought an apple pie and a beef burger, and only paid the tax, RM0.30. Yeah man.
Okay thank you. :D